New Caledonia offers dry dock storage
NOUVILLE PLAISANCE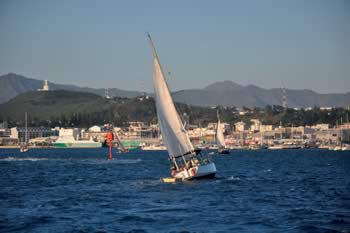 Hardstand area of 1.5 ha for monohulls
Travelift (50 tons, 6 metres beam)
3 metres draft
Jetty
Masting/unmasting crane (2.5 ton)
Repairs, blasting
Washrooms, fax, weather information
Services available: painters, refit, mechanics, maintenance (aluminium, steel, fiberglass), electricity,
sail loft, refrigeration
Stores: shipchandlers, deck equipment, paint, resin, fiberglass material etc.
Harbourmaster's office
Nouville plaisance
7, rue du Capitaine Bois, Nouville
(Petite rade)
ph.: 26 53 77 ; VHF 69
www.sodemo.nc
SOCOMÉTAL
Dockyard on 10,000sqm area
Secure site
Trailer for catamans up to 15 tons and 15 metres
Jetty
Masting/unmasting crane (2.5 ton)
Sacrificial anodes
Metal working industry (aluminium, steel, stainless steel), fiberglass and careening
Socométal
4, rue des frères Tarrasson, Numbo
ph.: 28 67 67 info@socometalnc.com
www.socometalnc.com
NEPTUNE & CARENOCÉAN
Ship repair docks (1 ha)
All types of boats including catamarans (16 metres)
Dry dock slipway
Trailer (20 tons), crane (10 tons)
Travelift (15T, 4.8m beam), new one of 25T arriving 2017
Masting/unmasting, fiberglass repair, carpentry, mechanics
Cyclonic docks (straps renting)
Toilets & shower
Nanni diesel dealership and agent for Outremer, Garcia and Allures yachting.
Neptune
3 bis, rue Carnot, Numbo
ph.: 28 01 95 / 77 41 44
neptune@lagoon.nc
Carenocéan
269, route de la baie des dames, Numbo
ph. 75 75 61 / 28 18 35
carenocean@yahoo.fr
NEW CALEDONIA PORT
For a quick removal from the water, 2 slipways in the Petite Rade for a capacity of :
1,000 tons (60 metres ships)
200 tons (30 metres ships)
Water, electricity, toilets
New Caledonia Port
Port autonome – cale de halage
33, av. J. Cook, Nouméa
ph.: 25 50 16 / 79 81 01
www.noumeaport.nc
SOCALMO
Slipway for boats up to 25m and 80T
Crane (25T) to haul out in nearby shipyards
Socalmo
Rue des frères Tarrasson, Numbo
ph. : 24.08.04 / 79.36.55
numbo.socalmo@canl.nc
---
Our partners:
---
REGULATIONS
Infrastructures are ruled under CEPI (Classified Environmental Preservation Installation) of the South Province.
Some activities are limited or prohibited in order to protect the lagoon and freshwater biodiversity. All products with TBT (Tributyltin) are prohibited.
INSURANCE
Yacht owners must adjust their insurance coverage when hauling out during cyclonic season.