ANCHORAGES IN THE GREAT SOUTH LAGOON
Sailing is both easy because protected from swell and difficult because of isolated coral patches. Wandering around the area means to sail when the sun in high and if possible behind you. Changes in wind direction must be closely watched when mooring at an islet, good length of chain is recommended for a comfortable circle of swing.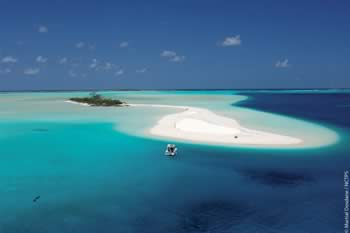 SHORT SELECTION OF GREAT CALLS
Îlot Mato, deserted, remarkable diving. Protection S/SE & W. Wonderful view up the hill (track on the north side) ;
Îlot Ua (the five islands). protection S/SE. Nice drop-off to snorkel around ;
Îlot Kouaré, accessible at any tide, very good anchorages near the coral reef, exceptional scuba diving in the pass (watch out for the currents) in the Merlet Cave and on a wreck. Protection : NE/SE/SW/W. Other anchorages at the discretion of the captain depending on weather conditions.
Our partners:
SURFING
South West 'Horn' Ideal site for surfing. Reef waves not frequently visited and many passes near the anchorages.
Bourail West Coast Try a beach break or a reef wave on the Main Island.
Les spots recommandés par La Fédération française de surf
Ligue calédonienne de surf :
http://surfingnewcaledonia.overblog.com